The Full Strength Realty Team, What makes us different?
We all know how stressful the thought and process of selling or purchasing a home can be. Just the act of moving is, by itself, difficult; then on top of that we are including a major financial process with big decisions along the way. Just reading this probably raised your stress level a bit.
However, our team has found that if we educate you as much as possible about the process, and what some of those decisions can mean for you, that your stress levels will decrease dramatically! You see, when you understand something, there is less stress involved.
Now we are not foolish. We are not going to even think of guaranteeing a "stress free" process as some others try to promote – we believe that is an impossible guarantee to keep! We will however promise and commit to you that we will be there and be involved every step of the way. Listening to your needs and providing guidance to you. With the goal of removing as much stress as we possibly can. Now that is a goal we can definitely hit!
We have helped many families achieve their housing goals. We want to help you too! Our team approach means you have access to all the support you need along the way. Our agents work together, when needed, to troubleshoot and problem solve whether for negotiations or finding alternative viewpoints on making something work in a transaction. Simply stated, you get more brainpower with our team working for you. That is the Full Strength advantage!
What does that mean for you? It means we deliver a home buying or selling experience with minimal stress and with outcomes to meet (or hopefully exceed) your expectations.
Now we would like to let our clients speak on our behalf:
"Mr. Kirk is one of the best real estate agents and Realtors I've ever had the pleasure of working with. Collegial, friendly, approachable but highly-knowledgeable and well-informed. He is timely, detail-oriented and hard-working. An overall top-notch experience by all metrics. Would not hesitate to do business with Mr. Kirk in the future." — P. Sridharan
"I enjoyed working with Shane Kirk. He has the right amount of knowledge, professionalism & relaxed manner to complete all that was needed. I bought a house in September & my prior home sold in 7 weeks with the final closing day.
"We're first time home buyers and Floide was there for us every step of the way. He even made himself available when he was out of the country on vacation! I'm very grateful for his help because I can't imagine that the process would have been easy without him. If we're ever in the market again he'll definitely be the realtor that I reach out to." — Anna
"Shane was always available to answer questions and completed all details with ease.  I was nervous on several occasions and he put my mind at ease each and every time with his knowledge , experience and humor. This was a big life project for me and he made this transition so much easier.  I can't THANK YOU enough! I am so much happier in my new house!" — L. Adams
"I have had a couple of agents before Shane Kirk and was not happy about their services. The main problem was communication. Shane was explaining everything from basic very well and was very patient with repeating questions. I am really satisfied with his clear communication style. And his service is still ongoing even after the closing. I would definitely work with him in the future.  Thank you Shane." — J. Ko
"Floide did much more than what was expected from an agent. Excellent attention to detail, client needs and wishes. Impeccable communication with clients and other agents involved in negotiations and purchase. Availability 24/7. Compassionate and understanding of personal circumstances. Very approachable and patient. He made the whole process very easy for us. He is the guy!!" — Maria & Sean
"From the get go, Shane Kirk proved to be a knowledgeable and interactive realtor. He was the clear choice between 3 other interviewees. We could not be happier with our choice! Shane proved to be a knight in shining armor throughout the selling process. He fought for what we wanted and we came out very happy with the results! I can say that I call Shane a friend after our whole experience. He is very personable and showed that he truly cared about our needs during this process! I would not chose another broker if/when I decided to sell/buy another home. He would be my go to realtor! You can bet I will recommend him to all my friends and anyone asking advice regarding acquiring a dependable, personable, knowledgeable realtor!! Shane rocks!!!" — A. Gordon
It is my immense pleasure to recommend Floide Shelly as a real estate agent for any individual or family searching for their dream home. When Floide and I initially spoke, I told him that my goal was to find either a townhome or single family home with a double car garage, that was also in a safe neighborhood. Floide remained highly motivated throughout the entire process and invited me to several open houses. After I found the home that I LOVED and the sellers accepted my offer, Floide continued to be proactive about having me sign and submit all documents so that we could ensure the process would keep moving and that I would be able to close on time. By the way, the entire process was completed in a matter of only 3 weeks- from offer to close. I found that very impressive! Being a first time homebuyer, it's rare that a person is able to purchase their dream home, but I remember Floide saying in the beginning that it was possible as a first time homebuyer. I didn't lose hope and Floide lived up to his word and didn't stop until I found my dream home. I'm extremely thankful for such a great experience. If you're looking for someone with zeal and professionalism I highly recommend Floide Shelly!" — L. Jones
Meet The Team:
Shane Kirk, Team Leader — "I love helping people, always have." 
With over 100 home transactions under his belt, Shane has helped many people already. Shane started a bit later in the real estate agent business. Here is his story:
I was born in Southern California (So Cal) and have 2 older brothers and a younger sister. I lived in So Cal until my family decided to move to Northern Oregon when I was 3, because my dad wanted to have a farm.
Living on a 45-acre farm was a dream for a young kid like me. Plenty of trees to climb; fields to run in; barns to play in; and plenty of animals to tend and care for. Lots of things to do all the time. And I was the one in my family that was famous for touching the electric fence all the time! I could hear my dad say, after I let out a squeal, "Shane touched the electric fence… again."
Sadly 4 years later my parents divorced and for the next several years we moved between Oregon and So Cal. With 12 moves over 4 1/2 years it was a crazy time…
Just after my parents divorced is when I got my very first paying job, at the ripe old age of 7. My brothers and I would get up at 5AM to catch the bus to Fuji Farms where we were paid by the pound to pick Strawberries.
After a few moves, and a couple of jobs, we landed again in So Cal.  for the last time just prior to being a teenager. I resided in So Cal for the next 24 years, with another 11 moves and 29 different jobs in there (including 3 companies that I started or acquired), prior to moving cross-country to Durham, NC!
We lived in Durham for 7 ½ years prior to moving to Pittsboro where we have lived for the last 10 years. My job situation has calmed and I have only had 3 positions in the last 17 ½ years including the last 8 as a full-time REALTOR®.
If you are keeping track, I have owned 7 companies and held another 32 jobs. I know that sounds crazy, but some of those jobs were not a good fit for me. Sometimes I worked more than 1 job at a time and others I held for years. As far as moves… 29 different homes so far!
The end result is that I have acquired a vast knowledge across a number of industries. I bring this experience to my current real estate business and believe it makes me a better agent because of it.
Currently my wife and I are raising our twin sons who are 16. My 85 year-old father-in-law lives with us and his 92 year-old brother is moving in soon. My wife of 26 years takes care of all of us while home-schooling our sons (she is a saint!) !
Stephanie Hempel
Stephanie is an NC native having been raised in the town of Pittsboro where she still resides with her husband and young son. A geologist by formal education, Stephanie loves looking at the crystalline structures of rocks with her handy magnifying glass! If you are lucky and stumble across an unusual rock or stone, while Stephanie is touring a property with you, she can certainly tell you something interesting about it.
Stephanie works with both sellers and buyers on our team. Her eye to detail helps in her real estate business to prepare a listing for sale or to find a potential issue with a property that she can alert her buyers to. A definite asset to our team!
"My favorite aspect of my job has always been working with people in varying fields from all kinds of backgrounds, and I thrive on connecting people with what this amazing area has for them. I believe it is a privilege as much as it is a responsibility to really get to know YOU and understand you as a person, LISTEN to you, and work with you to make sure that your goals are met. I hope that you'll give me the opportunity to show you all the reasons why the Triangle is such a great place to live, and the peace of mind that comes with a great agent having your back when you need to buy or sell a home. I can help you find you sanctuary!"
Floide Shelly
Floide is one of those people that has a magnetic personality! Smart and intelligent (he has an MBA with an emphasis on marketing) but not the "in your face, I'm better than you" kind. Floide has experience in the property management field primarily focused on student housing. This experience has exposed Floide to a vast array of types of people from residents to contractors to administrators. Getting all these types of people working together is an amazing skillset, one Floide brings to aid his real estate clients.
Floide loves working with buyers and focuses much of his attention to them on our team. Floide has incredible patience which is a great asset as he navigates and negotiates contracts and repairs for clients.
Jordan Richardson
Jordan was born and raised in Indiana but moved to Durham in 2019. He is currently an MBA student at Purdue University. In his free time you might catch him out on the golf course, traveling, or hanging out with his wife and their pups. Jordan enjoys all things real estate, from searching for properties with first time home buyers to working on renovation projects.
Jordan completed his undergraduate program in Health Science with the intent to transition into nursing school. He knew he wanted to help individuals live a better, healthier life, but he soon found out that he was deathly afraid of needles and could not stand the sight of blood! This is where his career pivoted to real estate. He is able to satisfy his desire to help others, while avoiding blood and needles. Jordan strives to make each and every transaction a good experience, whether he's dealing with a first-time homebuyer or a seasoned investor. Jordan believes real estate should be seen as a positive investment vehicle, whether that means gaining monetary value or increasing quality of life.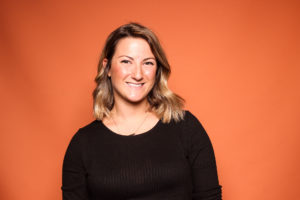 Hanna Manella
Hanna is the newest addition to our Full Strength Realty team and hails from Boston, MA.  Hanna has always had an urge to help people grow and discover new opportunities.
Upon graduating college, she worked to develop events for a non-profit and moved on to partnering with university professors to provide their students the opportunity to travel internationally on experiential learning programs.  Hanna currently works remotely for a Boston-based tech company focused on helping businesses grow better through software adoption.  She totally nerds out on business process and scalability, so if you're looking for some free business consultation, she's your gal!
Hanna made the move to Durham in 2019 where she was really able to develop a love for real estate in the vast diversity that is the Triangle.  Her main drive is to ensure homebuyers and sellers enjoy the experience that is purchasing or selling a home while finding the right fit.  Her goal is to let you sit back, relax, and not stress the details of the process.
In her spare time, she enjoys traveling, skiing, golfing, hosting gatherings, and most importantly, spending time with friends, family, and especially her corgi, Franklin.
Next Steps
If you're looking for a real estate agent, it's important that you find someone who is a good fit for you. So let's talk. Whether you're selling or buying, we'd like to learn more about you and your needs and goals. You can count on us to "tell it like it is" and give you a realistic picture of what is possible.
Contact us to get in touch.
As a real estate team who puts clients first, we look forward to hearing from you.
Service Area
Our team helps people throughout the Triangle region in NC., cities including: Apex, Bahama, Burlington, Butner, Cary, Chapel Hill, Clayton, Creedmoor, Durham, Efland, Franklinton, Fuquay Varina, Garner, Graham Hillsborough, Holly Springs, Knightdale, Mebane, Morrisville, Pittsboro, Raleigh, Saxapahaw, Siler City, Stem, Wake Forest, Wendell Falls, Zebulon and all the areas in between!